Dr. Maria Isabel Atienza is the newly appointed Vice Dean and Assistant Chief Academic Officer
| June 20, 2022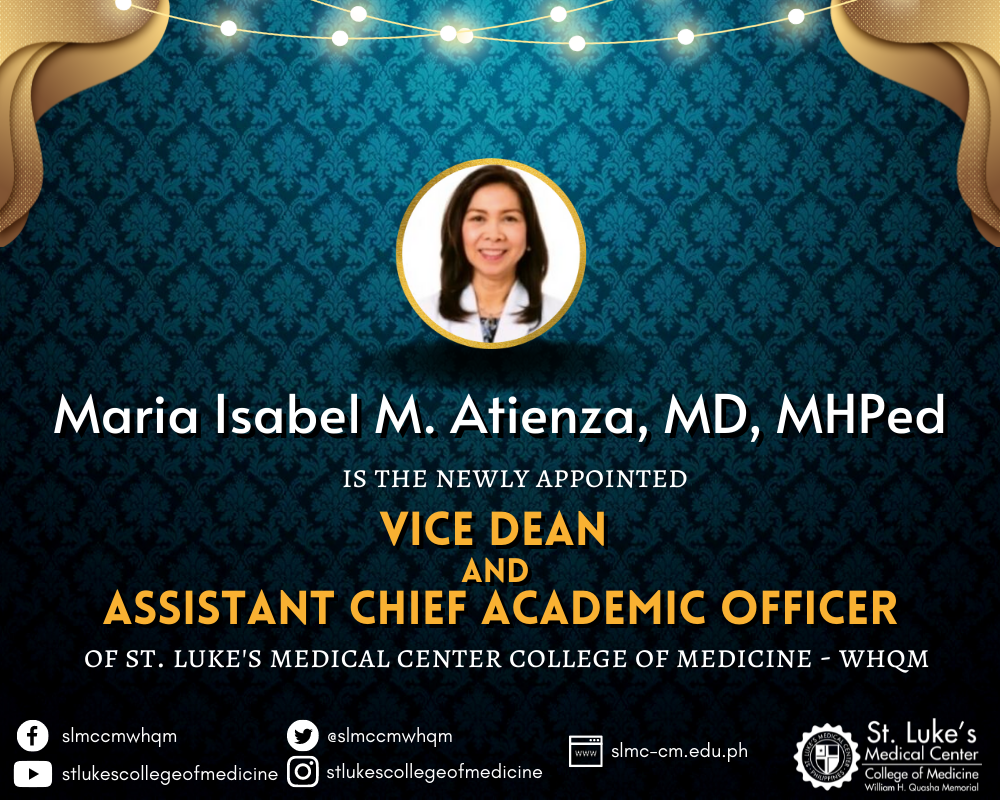 Last June 1, 2022, Maria Isabel "Marcie" M. Atienza, MD, MHPEd was appointed as the St. Luke's Medical Center College of Medicine – William H. Quasha Memorial's (SLMCCM-WHQM) new Vice Dean and Assistant Chief Academic Officer. Dr. Atienza will co-lead and co-manage the College's strategic and operational activities. She will likewise ensure that the College continues to develop high-caliber medical students and graduates in the pursuit of their specialization or higher medical education, research, and medical practice. She will report to Dean Susan P. Nagtalon,  SLMCM-WHQM's Dean and Chief Academic Officer.
Let's get to know more about Dr. Atienza. She earned her BS Zoology from the University of the Philippines Diliman and her Doctor of Medicine from the University of the Philippines College of Medicine. She also holds a Master Health Professions Education from University of the Philippines Manila. She is currently completing her PhD in Educational Research and Evaluation at the University of the Philippines Diliman. She is a practicing Pediatric Pulmonologist at St. Luke's Medical Center (SLMC) Quezon City (QC) and Global City (GC). Dr. Atienza is also the Head of the Institute of Pediatrics and Child Health at SLMC GC. More notably, she was the Associate Dean for Academic Affairs of SLMCCM-WHQM for 9 years!
Lukans, let us all welcome Dr. Marcie Atienza and provide her with our utmost support!