News: SLMCCM convenes interdisciplinary workshop to shed light on the climate change and mental health nexus
| March 1, 2023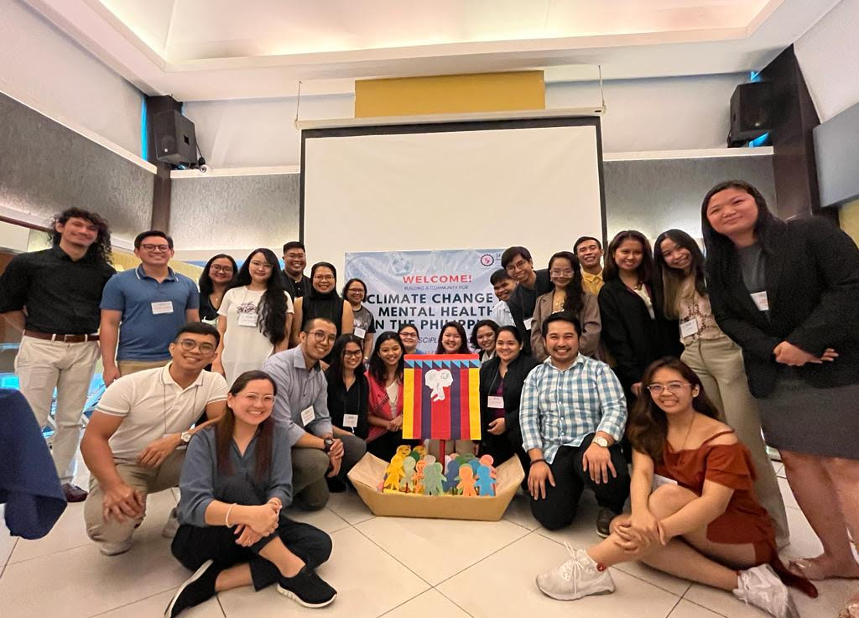 Workshop attendees made a commitment to embark on the journey to tackle the nexus of climate change and mental health
The Planetary and Global Health Program (PGHP) of the St. Luke's Medical Center College of Medicine-William H. Quasha Memorial hosted an interdisciplinary workshop entitled "Building a community for climate change and mental health in the Philippines" on January 18, 2023. This in-person event convened individuals and organizations from different disciplines such as psychology, medicine, public health, and climate advocacy to map locally relevant issues at the climate-mental health nexus and identify potential collaborative opportunities in research, advocacy, policy influence, and community intervention.
Climate change is a global health emergency that dramatically impacts population health and well-being worldwide – for instance, by exacerbating longstanding public health problems such as infectious diseases and undernutrition. However, there is also growing recognition that climate change affects the health of people's brains and hearts – it is a mental and emotional health issue as well. For instance, one study in 2021 found out that the Filipino young people are the most "climate-anxious" in the world. Hence, more research, advocacy, and action are needed to advance this under-examined nexus of climate change and mental health, especially in low- and middle-income countries that are highly vulnerable to the climate crisis, such as the Philippines.
Dr. John Aruta, pioneer of environmental psychology in the Philippines, gives a presentation about the latest evidence on climate change's impacts on mental health
The objectives of this in-person interdisciplinary workshop were to: (1) build a community of practice of researchers, advocates, and young people dedicated to the nexus of climate change and mental health in the Philippines; (2) generate research questions related to climate change and mental health in the Philippines; and (3) identify opportunities for collaboration in the areas of research, advocacy, policy influence, and intervention.
The workshop generated many priority research themes as well as possible areas of collaboration. For instance, queries on how we communicate climate change and engage in conversations, especially with specific populations that are either most affected or least aware, were raised. Moreover, it was also noted that one of the ways by which younger generations cope with climate-related anxiety is through advocacy, by being involved in environment-friendly activities and campaigns. Meanwhile, it was also highlighted that the existing Mental Health Law may not have mentioned climate change, but it offers an opportunity to enhance people's psychological resilience to the changing climate. Actions such as intensive educational initiatives and evidence-informed conversations with policymakers were also suggested. It was also emphasized that a system-thinking approach is required to understand and address people's vulnerability to the impacts of climate change on mental health. The participants also called for more support from government, private sector, and civil society in advancing this new agenda and strengthening the country's capacity to take action on climate change and mental health.
Moving forward, the new community for climate change and mental health that was established during the workshop will continue to explore concrete collaborations, especially in the areas of education and capacity building, joint research, and policy advocacy. The St. Luke's PGHP will serve as the nascent network's secretariat, building on their prior initiatives such as the Asia regional dialogue of the Care of People and Planet (COP2) held in 2022.
Workshop participants present their group discussion outputs on locally relevant research questions on climate and mental health