Welcome back! Opening Ceremony for Academic Year 2021-2022
| September 29, 2021
Classes for the academic year 2021-2022 have officially resumed this Wednesday, September 1, 2021. This was marked by the annual Opening Ceremony which started off with the Agape's invocation and Chorale's rendition of the national anthem. This will be the second year the annual event was held as a virtual program via Zoom.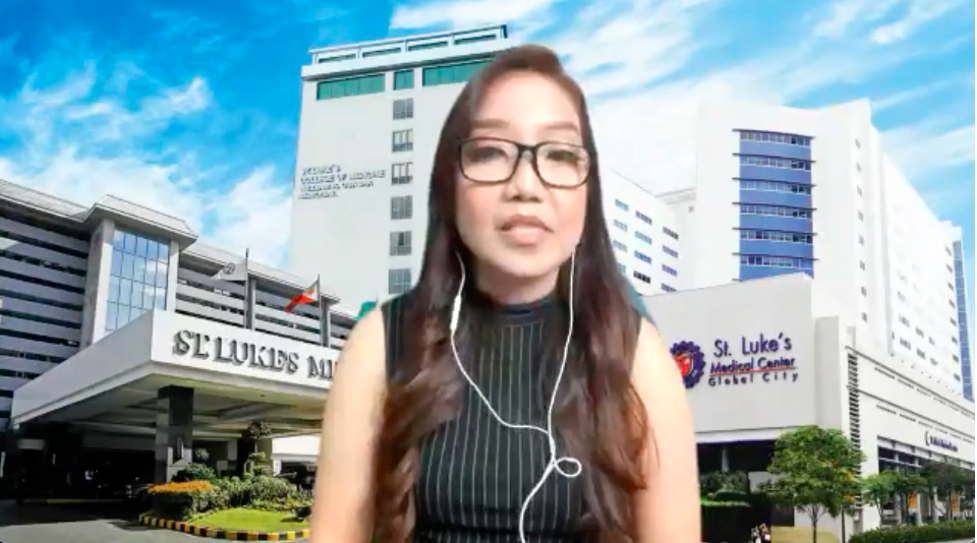 The College Secretary and Assistant to the Dean, Dr. Genevieve Padilla-Evangelista, noted that the Opening Ceremony is another milestone for the college as this will be the start of new learnings, new experiences, new connections, and new beginnings. Dr. Padilla-Evangelista also remarked how the COVID-19 pandemic has reformed medical education to virtual and remote learning.
Warm Welcome from the Dean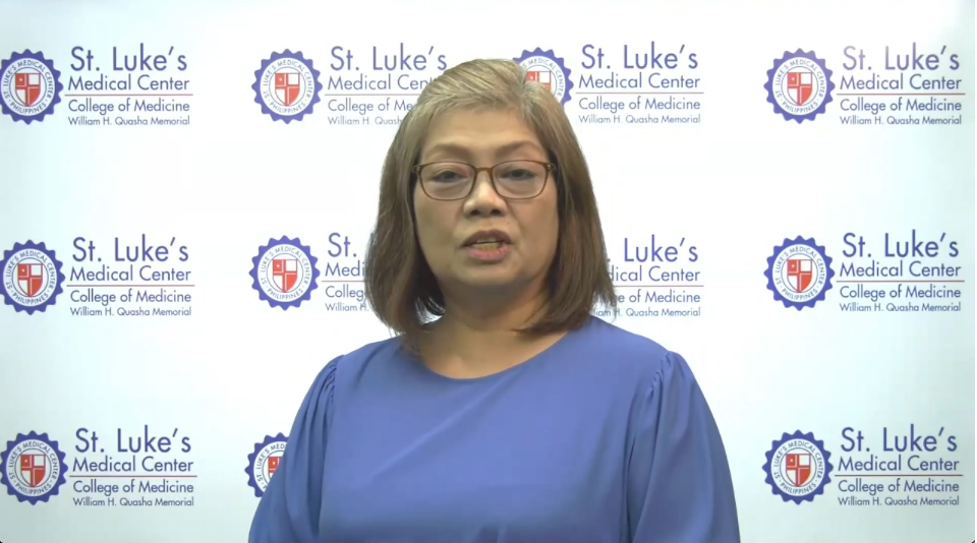 Dean and Chief Academic Officer, Dr. Susan Pelea Nagtalon, welcomed everyone and thanked the students for pursuing their dreams at SLMCCM-WHQM. She assured that the College is committed to maintaining its excellence and will continue innovations in medical education (both basic and clinical) and research literacy.
The Dean remarked that this is the College's 27th year as a school. She added that what droved progress and sustained vitality is the collective effort of the faculty, students, alumni, and benefactors. The reason why the Lukan community has not only gathered once again for another academic year but is also been able to continuously overcome every challenge it may face in the future is that each member resides in their inner strength, determination, and grit. Moreover, she believes that everyone shares a stake in the overall direction of the school.
Dean Nagtalon spoke that this is the 2nd year of implementing the revisited modular curriculum. The school will continue what it started in the academic year 2020-2021. On the other hand, she remained hopeful that once the quarantine status is downgraded with the consent of all stakeholders the school will pursue a hybrid/ blended curricular delivery with carefully predetermined academic activities to be held on-site. Regardless of circumstances, the safety and the health of the Lukan community is always a priority.
The dean also pointed out the SLMCCM-WHQM follows five principles that reflect its culture and aspirations. First, teaching not only core competence but also professionalism, compassion, and ethical behavior. Second, embracing innovations utilizing ubiquitous pedagogy while emphasizing the importance on communication, teamwork, collaboration, interprofessionalism. Third, provision of quality care and patient safety. Fourth, keeping abreast with the progress in medicine and the humanities and teaching the students to embrace self-development and life-long learning.
Lastly, Dr. Nagtalon looks forward to a productive learning experience in the reimagined setting for medical education between the amazing and talented students and "engines of innovation" the faculty.
Words of Wisdom from the President
St. Luke's Medical Center President and CEO, Dr. Arturo De La Peña, tells a story from 46 years ago which takes place during the opening ceremony for the incoming freshmen of the FEU College of Medicine. He remarked that he was impressed with one of the speakers, who was recognized then as the most outstanding clinical clerk of his batch. Dr. De La Peña vividly recalls what the speaker said, "take a good look at your seatmates on your right and your left. Memorize their faces, since this may be the last time you can do that." He continued, "the life of a medical student was all hard work". He emphasized that this holds true even in present and even more because of the challenges aggravated by the current pandemic. However, he honestly believes that the new generation is more equipped to adapt and learn from new experiences. He added the new generation is capable of making the most of every learning opportunity that comes long. The wise doctor ended his talk with this message, "To you, dear students, may your journey allow you to achieve great things and create milestones that all of us will be proud of."
Academic Year 2020-2021 Throwback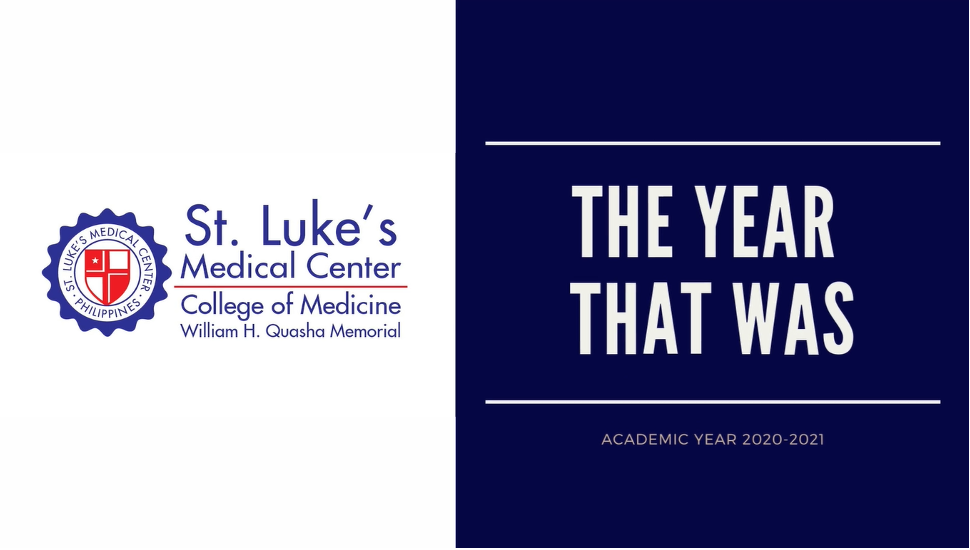 Next in the program was the presentation of the different virtual activities conducted by the college last academic year shown as a throwback video.
Opening Ceremony for Academic Year 2020-2021
FACTS 1.0: Faculty Academic Continuity Training Series
22 Conversations that Matter
7 General Faculty and Student Assemblies
6 Junior and Senior Interns Assemblies
6 CHELSi: Conversations about Health and its Ethical, Legal and Professional and Social Implications
7 The Future of Health Conversation Series
2nd Robert F. Kuan Memorial Lecture 2020
Luke's Molecular Medicine Society Webinar Series
Myriad of student activities spearheaded by the different student organizations: Athletics Guild, Agape, Chorale, Dance Company, Iatros, Musician's Circle, Sagip Bayan-Student Group, Student Council
Student Council Outreach Programs: Quash Course; Tara Lukan, tulong tayo; Kislap ng Pag-asa; Isang Lukang Pasasalamat; A Merry Lukan Valentine
Strategic Planning 2021
Open House 2021
CHED and QC LGU Site Visit
Towards the end of the academic year, the Junior and Senior Interns were welcomed back in the College and the St. Luke's Medical Center. Not only were they vaccinated, they also have back to the community by volunteering in the rollout of the COVID-19 vaccines.
Comprehensive Examinations 2021
Send-Off Mass and Doctor's Toolkit
23rd Conferment Ceremony 2021 of a total of 69 graduates
Recognition
After the throwback video, the members of the Board of Trustees, administration, staff, and faculty were recognized. After which, the Immediate Past Chairs and Faculty Retirees were honored for their instrumental contributions.
Next, the students of both the Doctor of Medicine and MS Molecular Medicine program were introduced by the Associated Dean and Head for Office of Student Affairs, Dr. Maria Elena Pile. There were 111 junior interns who were promoted to senior interns. There were 142 third-year level MD students who were promoted to junior interns. There were 150 second-year level MD students who were promoted to third-year. There were 140 first-year level MD students who were promoted to second-year. And finally, the college accepted 119 first-year level MD students for this school year.
Thereafter, the Dean gave recognition to the most outstanding faculty for teaching and innovations: Dr. Arturo M. Decano for Year level 1; Dr. Pacifico Eric E. Calderon for Year level 2; Dr. Bernard F. Laya for Year level 3; Mary Joan L. Millonado for Year level 4; Mary Beth F. Tanco for Year level 5.
Dr. Pile then proceeded to recognize the top ten students for each year level of the Doctor of Medicine program. Dethalee Gabrielle R. Velasquez was also recognized as a Dean's Lister of the MS Molecular Medicine Program. She then continued to recognize the other achievements of the students in the past year proving that Lukans not only excel academically but also in research, paper presentations, and quiz bees.
The Entrance and St. Luke's Medical Center Foundation, Inc. Scholars were also recognized. In line with this, the college extended its gratitude to its private donors and sponsors. For without them, the educational pursuits of the aforementioned scholars would not be possible.
Lastly, Dr. Pile also recognized the different student organizations and representatives who will serve as the college's partners in achieving in its goals and missions for this academic year. The Student Council will be led by Jose Gabriel P. Salazar. The Musician's Circle will be led by Bea C. Piedad. The Dance Company will be led by James Raphael R. Medrano. The Chorale will be led by Melissa R. Marticio. The Molecular Medicine Society will be led by Mica Xiena Yungca. The Athletics Guild will be led by Martin "Vince" C. Martin. The Agape will be led by Jean Beatrix C. Sumague and Hana Thea A. Maddumba. The Iatros will be led by Narciso Rafael E. Torres.  The student leaders then proceeded with the oath-taking ceremony.
What's in Store for Academic Year 2021-2022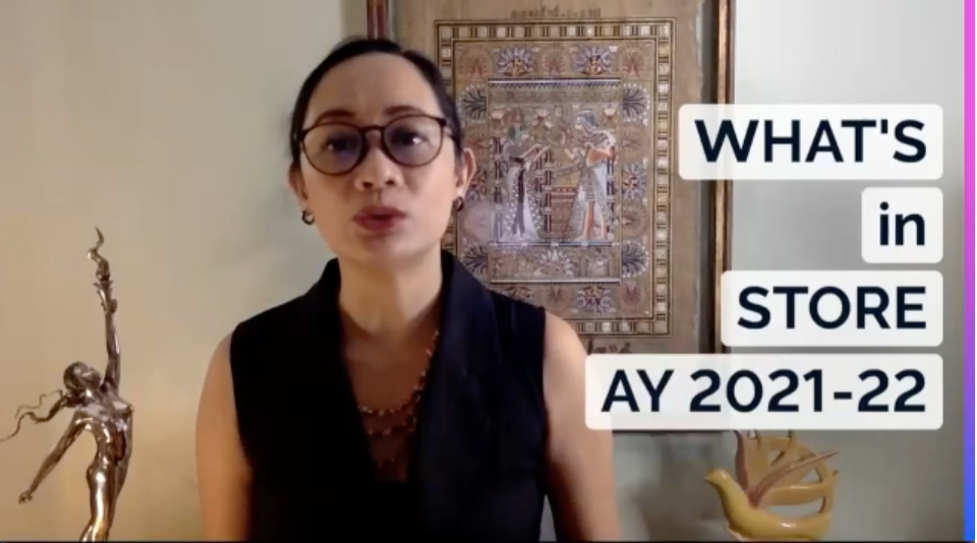 The Associate Dean and Head for the Medical Education Unit, Dr. Malaya P. Santos, then took the "stage" by giving us a glimpse of what is in store for the college for this academic year.  She proceeded to highlight that the COVID-19 pandemic which was declared last March 2020 had a remarkable impact on medical education particularly on emotional, economic, and health concerns. Dr. Santos then went over the pandemic response of the college emphasizing some notable achievements as summarized below. She added that besides the valuable feedback from both the faculty and students, the college used student performance and published literature as a guide for improving the online and blended learning being employed.
March 2020

Didactics Migrated Online
Synchronous and synchronous, self-paced learning

April 2020

Innovation in Student Assessment (Qualitative and Quantitative)
Collaborative Projects
Flexibility and Compassion
Communication

May 2020

Student Promotion
Consideration for Exceptional Needs

June 2020

Student Orientations Academic Year 2020-2021

March 2021

Curriculum Review and Evaluation
Focus Group Discussions

June 2021

Curriculum Planning Academic Year 2020-2021

August 2021

Bridging Program
Student Orientations Academic Year 2021-2022
Aligned with the outcomes for the Doctor of Medicine and MS Molecular Medicine programs, Dr. Santos said that the curriculum has been carefully redesigned to equip the students not only with knowledge but also the equally important psychomotor skills, soft skills, attitudes, and values needed for their future practice.
She emphasized that the discipline-based curricular structure remains unchanged. The integrative subjects foundations of medicine, clinical evaluation, and clinical integration span across multiple disciplines acting scaffold for horizontal and vertical integration. The subjects preventive and community medicine, basic science research, and clinical research will serve as the robust foundation for research and evidence-based medicine. Moreover, the subjects introduction to the medical profession, medical ethics, medical jurisprudence and legal medicine will provide a similarly strong foundation in the medical humanities. There is also a recent addition of non-clinical electives focused on ethics, global health, service learning, advocacy, and public health informatics. She added that the examinations, submission deadlines, and academic breaks have been plotted strategically throughout the year.
Dr. Santos then presented the summary of the subject calendars designed to cater to the needs of each year level. She then highlighted some of the innovative teaching strategies which will be employed for the coming year.
Augmentation of the Clinical Experience
VICTORi (the virtual clinical teaching and OR initiative wherein you can see the details of surgical procedures "up close and personal")
Online Dissection in Anatomy
Virtual Out Patient Encounters and Standardized Patient Experiences
Skills and Simulation Laboratory
Online Community Interaction
Gamification
The Associate Dean ended her talk by leaving the audience this message, "Keep your own pace, and expect to stumble once in a while. Rest if you must, and pick yourself up and dust yourself off. Keep going until your dream to be a physician or a scientist becomes a reality."
Conclusion to the Event
The event concluded with the Chorale's rendition of the school's hymn.
To the whole Lukan Community, welcome to SLMCM-WHQM Academic Year 2021-2022!
******************************************************************************
Gratitude and Tribute
The college extended its gratitude and appreciation to the Immediate Past Chairs: Dr. Helen T. Ocdol for Medicine; Dr. Jeffrey S. So for Pathology; Dr. Cecilia Gretchen N. Locsin for Otorhinolaryngology; Dr. Roy P. Vizcarra for Radiology.
The college also extended its gratitude and appreciation to the Faculty Retirees for their invaluable service: Dr. Roy P. Vizcarra of the Department of Radiology; Dr. Noel B. Carilo of the Department of Surgery, Section of Orthopedics; Dr. Evelyn A. Fernando of the Department of Pediatrics; Dr. Mariano V. Dumia II of the Department of Medicine.
Moreover, the college offered a loving tribute in memory of the "father" of the Department of Surgery, the late Dr. Menandro V. Siozon.
Top 10 Students for School Year 2020-2021 per year level
1st Year
Beatrice Hope G. Reyes
Liam Gabriel I. Bautista
Denisse Lorraine C. Bayalan
4/5.   John Lloyd M. Sawal
4/5.   Elinor Angelie M. Perez
Jewel Mae Z. Daniel
Obbrei M. De Ocampo
8/9.   Ivan Raden A. Rosario
8/9.   Jephany P. Aragon
Carmela Felicia D. Umpangco
Marielle S. Hormigos
Michael Hedrick R. Cabotage
2nd Year
Khlarica Rygine A. Furigay
Aaron Jade D. Capuno
Darren S. Perico
Jaewon John D. Pabellon
Marybeth Joy M. Poquiz
Katrina T. Feliciano
Camille Anne M. Canonizado
Faith Corinth T. Lim
Immah Marie R. Pineda
Diane Frances M. Peralta
3rd Year
Erika Anne Canonizado
Gaius Sulpicio G. Yu III
Jose Rafael M. Aldaba
Anne Geleen L. Braganza
Patrick Joshua T. Galura
Joshua Kyle Niño I. Oliveros
Ria Nicole D. Bondad
Alexandra Nicola B. Valenzuela
Jasmine S. Interior
Samantha Ally V. Bismonte
4th Year
Dianne J. Cunanan
Davenn Marr C. Bacud
Krystal April Joy O. Curso
Cooper Nikko C. Chavez
Gebrelle S. Castillo
6/7.    Jamila Anne C. Castillo
6/7.    Jan Dominik C. Arceo
Paula S. Santos
9/10. Richelle Angelika E. Ignacio
9/10. Joshua Paul L. Comia
5th Year
Janelle Felice C. Montano
Gerard Anne April M. Ona
Joselv E. Albano
Shaira I. Rabang
Kristine Bernadette M. Matibag
Mary Denise V. Joaquin
Cristina May A. Manalaysay
Jose Fernan M. Reyes
Blesille Ann C. Valencia
Vince Ivan M. Camangeg
Entrance Scholars and St. Luke's Medical Center Foundation, Inc. Scholars of Batch 26
For freshman batch 2026, we have four entrance scholars: Rose Bernadette Y. Aspirin, graduated magna cum laude BS in Biology from the Ateneo de Manila University. Coleen Jeanina A. Co, graduated summa cum laude BS in Biology from De La Salle University. Mark Christian Joshua P. Cuyugan, magna cum laude BS in Psychology from University of the Philippines – Diliman. Janina Gesca S. Dy, magna cum laude BS in Medical Technology from Trinity University of Asia.
For freshman batch 2026, we have eight foundation scholars: Lara Sophia B. Bernardo, Jahziel M. Culala, Vince Philip DL. Jarnagin, Mary Amiabelle T. Limjoco, Jayson P. Lobis, John Angelo G. Lopez, Marialle Cheska S. Oclos, Alexandrinne M. Pinca.
Other Student Awards
First, Second, Third place in the REG CON 2021: Abot-Tanaw Research Competition held last February 7, 2021
Best Poster in the REG CON 2021: Abot-Tanaw Research Competition held last February 7, 2021
First place in the National Medical Students Research Competition – Public Health/ Translational Category held last February 7, 2021
Third Place in the National Medical Students Research Competition – Public Health/ Translational Category held last February 7, 2021
Seal of Good Governance to the SLMCCM-WHQM Student Council given by the Association of Philippine Medical Colleges – Student Network last March 2021
First Place in the AMSA COVID-19 Research Week Competition Global Health Program held last June 6, 2021 – Cahatol, J., Lazaro, K., Salazar, A.
Second Place in the 4th Agaton T. Panopio Jr. Inter-Medical School Physiology Quiz 2021 held last June 25, 2021 – Bautista, L., Reyes, B., Rosario, I